Innate immunity and monocyte-macrophage activation in atherosclerosis
Journal of Inflammation
2011
8:9
Received: 16 September 2010
Accepted: 28 April 2011
Published: 28 April 2011
Abstract
Innate inflammation is a hallmark of both experimental and human atherosclerosis. The predominant innate immune cell in the atherosclerotic plaque is the monocyte-macrophage. The behaviour of this cell type within the plaque is heterogeneous and depends on the recruitment of diverse monocyte subsets. Furthermore, the plaque microenvironment offers polarisation and activation signals which impact on phenotype. Microenvironmental signals are sensed through pattern recognition receptors, including toll-like and NOD-like receptors thus dictating macrophage behaviour and outcome in atherosclerosis. Recently cholesterol crystals and modified lipoproteins have been recognised as able to directly engage these pattern recognition receptors. The convergent role of such pathways in terms of macrophage activation is discussed in this review.
Keywords
Atherosclerosis
Inflammation
Innate immunity
Toll-like receptors
Monocyte subsets
Macrophage subtypes
Macrophage polarisation
Introduction
Atherothrombotic vascular disease is quickly becoming the leading cause of mortality worldwide, accounting for a fifth of all deaths [1]. The manifestations of the disease are often sudden and dramatic, including myocardial infarction and sudden death. Cerebrovascular atherothrombosis is responsible for ischaemic stroke, a major source of disability and dependence, and represents a rising health-economic burden [2].
Progress has been made in refining our understanding of the process of inflammation which underlies atherosclerosis since the early descriptions by Rudolf Virchow during the 19th century [3, 4] and subsequently Russell Ross in the late 1990s [5–8]. The development of an atherosclerotic plaque begins with the recruitment of blood-borne inflammatory cells at sites of lipid deposition [9] or arterial injury [5]. Local rheological factors, such as low and oscillatory (with vortices) blood-to-wall shear stress dictate the location of atherosclerotic plaques to characteristic points along the vasculature [10, 11].
Atherosclerosis shares features with diseases caused by chronic inflammation [7]. Inflammation is intrinsically linked with disease activity, as the numbers of monocyte-macrophages infiltrating the plaque [12] and their location at plaque rupture-sensitive sites (such as the fibrous cap and areas of erosion [13, 14]) is related to plaque vulnerability. Moreover, lymphocyte abundance and their activation markers relate to plaque activity [13]. Macrophage differentiation is acknowledged as critical for the development of atherosclerosis [15]. The intimate relationship between atherosclerosis and inflammation is further exemplified by the involvement of cytokines and chemokines at all stages of the process of atherosclerosis (reviewed in detail by [16]). The extent of the inflammatory infiltrates and their strategic location within the protective fibrous cap is associated with plaque rupture and/or thrombosis [17]. Adventitial inflammation has also been described [18], and is linked with an expansion of the adventitial vasa vasorum in unstable atherosclerosis [19]. The inflammatory nature of atherosclerosis is supported by the association between circulating plasma inflammatory markers, particularly C-reactive protein, with cardiovascular outcomes, even in the absence of dyslipidaemia [6]. Further evidence for a link between systemic inflammation and cardiovascular disease is the increased incidence of cardiovascular events in chronic inflammatory conditions, such as inflammatory arthritis and systemic lupus erythematosus [7, 8]. The expanding knowledge base regarding inflammation in atherosclerosis has resulted in a keen interest in targeted therapeutics and functional imaging tools for the high-risk atherosclerotic plaque [20].
Innate immunity is a key player in atherosclerosis
How is inflammation established and maintained within an atherosclerotic plaque? Inflammation in physiological conditions is a self-limiting ancient protective mechanism that defends the host from invading pathogens. It relies on two arms: innate immunity and adaptive immunity. Innate immunity is activated immediately upon encounter with the pathogen and is executed primarily by myeloid cells with the participation of some "innate" lymphocyte sub-populations. Adaptive immunity is a second line of defence that is based upon the generation of antigen-specific recognition apparatus at cellular (T cell receptor) and humoral (antibody) levels.
In the past decade it has become apparent that the innate arm of the immune inflammatory response is not merely a concoction of non-specific responses and phagocytosis. Rather it is the main orchestrator of the subsequent adaptive responses and is able to sense pathogen associated molecular patterns (PAMPs) with a specificity which was previously unsuspected. In inflammatory conditions, including atherosclerosis, the immune inflammatory apparatus is chronically activated, either due to the persistence of pro-inflammatory stimuli or due to the failure of regulatory mechanisms that should facilitate resolution. Significant progress has been made in the field linking innate immune sensors to the recognition of cholesterol [21] and modified lipoproteins [22–24]. Thus diverse innate immune signalling pathways have been seen to cooperate to induce and maintain inflammation upon exposure to exogenous and, importantly, endogenous molecular patterns [21, 25].
The most abundant cell types within the atherosclerotic plaque are innate immune cells, such as monocyte-macrophages, dendritic cells (DCs) and mast cells. Monocytes-macrophages came to the forefront of research owing to new awareness that they may represent a more heterogeneous and phenotypically plastic population than previously anticipated. In this review we focus on the role of macrophage activation and phenotypic polarisation in lesion formation and vulnerability.
Macrophage heterogeneity in atherosclerosis
Macrophages are a heterogeneous population of cells that adapt in response to a variety of micro-environmental signals; their phenotype is very much a function of environmental cues [
26
,
27
]. In a nomenclature mirroring Th1 and Th2 polarisation, macrophages are usually defined as M1 or M2 [
28
]. Classically activated (M1) macrophages were the first to be defined [
29
,
30
] as pro-inflammatory. Alternatively activated (M2) macrophages have been originally characterised in the context of Th2-type immune responses [
29
]. Subsets of M2-like macrophages have been later found to contribute to wound healing and regulation of inflammatory processes [
31
]. Characteristic cytokine and chemokine signatures pertaining to human monocyte-to-macrophage differentiation and M1/M2 macrophage polarisation (Table
1
) have been described [
28
,
32
].
| M1 > M2 | M2 > M1 |
| --- | --- |
| CXCL11 | Insulin-like growth factor 1 |
| CCL19 | CCL23 |
| CXCL10 | CCL18 |
| Tumour necrosis factor ligand superfamily, member 2 | CCL13 |
| CCL15 | Bone morphogenic protein 2 |
| Interleukin 12B | Hepatocyte growth factor |
| Interleukin 15 | Fibroblast growth factor 13 |
| Tumour necrosis factor ligand superfamily, member 10 | CXCL1 |
| Interleukin 6 | Transforming growth factor β receptor II |
| CCL20 | CXCR4 |
| Visfatin | Mannose receptor C type 1 (CD206) |
| Endothelial cell growth factor | |
| CCL1 | |
| CCL17 | |
| CCL22 | |
| CCL13 | |
| Transforming growth factor β2 | |
| CCR7 | |
| Interleukin 2 receptor α chain | |
| Interleukin 15 receptor α chain | |
| Interleukin 7 receptor | |
Macrophage phenotypic polarisation may have a role in the fate of an atherosclerotic plaque. The plaque is an environment with a strong skew towards Th1 lymphocytic responses, resulting in high levels of IFNγ [
33
,
34
] which could in theory privilege M1-type macrophage polarisation. However, studies thus far have demonstrated macrophage heterogeneity within atherosclerosis, supporting that both M1 and M2 macrophages are present in human and murine atherosclerotic lesions. In an ApoE
-/-
murine model of atherosclerosis, early lesions were seen to be infiltrated by M2 (arginase I
+
) macrophages [
35
]. As lesions progressed a phenotypic switch was observed, with an eventual predominance of M1 (arginase II
+
) macrophages. Upon exposure to the oxidised phospholipid 1-palmitoyl-2-arachidonoyl-sn-3-phosphorylcholine (oxPAPC), murine macrophages adopted a previously undescribed phenotype (Figure
1
) [
36
]. A reduction in the expression of genes characteristic of both M1 and M2, coupled with an up-regulation of a unique redox gene signature that includes haemoxygenase 1, was observed. This population, termed Mox macrophages, are nuclear factor erythroid 2-like 2 (Nrf2)-dependent and have been shown to comprise approximately 30% of all macrophages in advanced atherosclerotic lesions of LDLR
-/-
mice [
36
]. A variety of subtypes have been described which are considered to fall under the umbrella of alternatively activated M2 macrophages (reviewed in [
31
,
37
]). An example of this occurs with administration of IL33 (which is functionally atheroprotective [
38
]) to genetically obese diabetic (
ob/ob
) mice, resulting in increased production of Th2 cytokines and polarisation of adipose tissue macrophages to a CD206
+
M2 phenotype [
39
].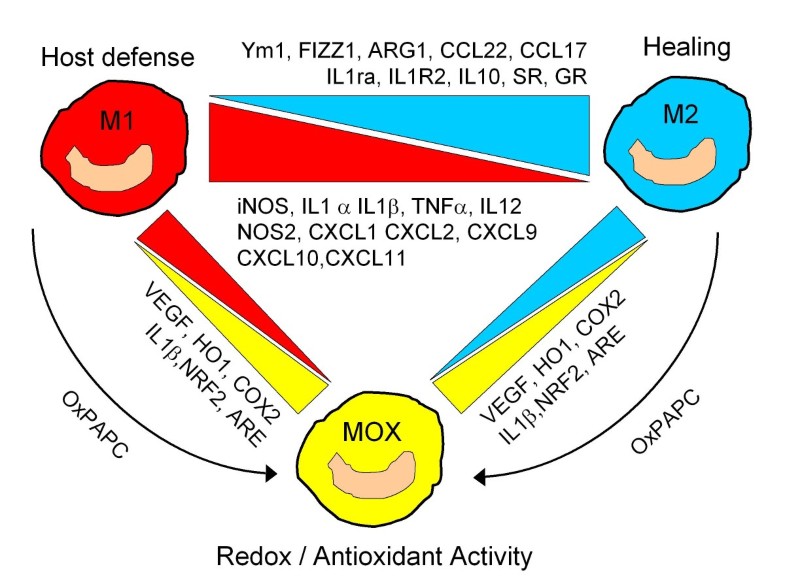 In human lesions different macrophage phenotypes exist, and do so in different plaque locations. M2 (CD68+ CD206+) macrophages were seen to reside in areas more stable zones of the plaque distant from the lipid core, with their M1 (CD68+ CCL2+) counterparts displaying a distinct tissue localisation pattern [40]. Subsequent work has confirmed this, finding CD68+ CD206+ cells far from the lipid core [41]. CD68+ CD206+ macrophages were also seen to contain smaller lipid droplets compared to CD68+ CD206-[41]. A subset of M2 macrophages has recently been detected in association with intraplaque haemorrhage in coronary atheromata [42]. These macrophages express high levels of CD163 (a scavenger receptor that binds to haemoglobin-haptoglobin (HbHp) complexes). They also express low levels of MHC Class II and display low release of the reactive oxidative species hydrogen peroxide. Expression of CD163 by peripheral blood monocytes was not shown to be different between the CD14+ CD16+ and CD14++ CD16- subsets. However, when monocytes were differentiated into macrophages in the presence of HbHp complexes for 8 days, they matured into a CD163high HLA-DRlow phenotype similar to the haemorrhage-associated macrophages within coronary plaques [42]. Differentiation into this macrophage subtype was dependent on the expression of CD163 and IL10 during in vitro blockade experiments. Interestingly, this polarisation was prevented by the incubation with specific inhibitors of endolysosomal acidification, such as chloroquine which is known to interfere with endosomal TLR signalling [42].
Lesion development and stability are not only determined by the influx and differentiation of inflammatory cell subsets, but also their ability to act on vascular extracellular matrix. Importantly, the macrophage subtypes display a differential expression of matrix metalloproteinase (MMP) and tissue inhibitor of metalloproteinase (TIMP) [43]. In particular, a subset of lesional foam cell macrophages characterised by a high expression of MMP14 (membrane type 1 MMP) and a low expression of TIMP3 were highly invasive and catabolic [44]. Moreover, such expression pattern of MMP14 and TIMP 3 was associated with markers of M1 polarisation [44], whilst expression of MMP12 was associated with an M2-typical down-regulation of arginase I [45]. Thus MMP expression by macrophage subsets is also heterogeneous, further highlighting the different functionalities of these cells.
The heterogeneity of macrophage phenotypes in the various studies is an important feature of our current view of atherosclerosis. Studies assessing multiple markers in human and murine lesions are needed to map such degree of heterogeneity. How is such heterogeneity generated? It is likely to be the result of recruitment of different monocytes subsets, or stimuli provided by the plaque microenvironment. Gordon and Martinez have proposed a four-stage paradigm of macrophage activation, where differentiation through exposure to growth factors is the first stage [46]. This stage is followed by priming (through cytokines, particularly IFNγ and IL4), activation (by TLR or similar), and finally resolution and repair (mediated by IL10, transforming growth factor (TGF)-β, nucleotides, glucocorticoids or lipotoxins) [46]. This review will explore the potential mechanisms leading to macrophage activation and polarisation in atherosclerosis.
Recruitment of monocyte subsets to atherosclerotic plaques
In both mice and humans, monocytes comprise 5 to 10% of peripheral blood leukocytes [25]. Two major circulating monocyte subsets have been described in humans and mice alike, the distinction made on the basis of size, granularity, and the differential expression of chemokine receptors and adhesion molecules [47]. The two mouse monocyte sub-populations are represented approximately equally in murine blood; they are distinguished based upon their expression of CCR2, CX3CR1 and Ly6C [48]) [49]. CCR2+ CX3CR1low Ly6C+ monocytes are termed 'inflammatory' monocytes, and CCR2- CX3CR1high Ly6C- are referred to as 'resident' monocytes [31, 47, 50].
Similarly to mouse monocytes, human monocytes can be separated into two groups based upon cell surface CD14 - a toll-like receptor (TLR) co-receptor sensing exogenous molecular patterns such as lipopolysaccharide (LPS) - and CD16 - a member of the family of Fc (Fragment, crystallisable) receptors FcγRIII. In humans, about 90% of monocytes are CD14
++
CD16
-
and termed 'classical' monocytes [
50
,
51
]. CD14
+
CD16
+
monocytes, which constitute the remaining minority, are referred to as 'non-classical' [
52
–
55
] (Table
2
).
Table 2
A comparison of human and murine monocyte subsets, highlighting differences in surface receptor phenotypes.
To date, monocyte phenotype data has centred largely on the murine system [29]. Similarities between mice and humans may be accounted for, at least in part, by the expression of surface receptors. For instance, chemokine receptors CCR1 and CCR2 are highly expressed on both CD16- human and Ly6C+ murine monocytes, and CX3CR1 is increased on CD16+ human and Ly6C- mouse monocytes [47, 56, 57] (reviewed in [58]). More than 130 of these gene expression differences were conserved between mouse and human monocyte subsets, with many of these differences also confirmed at the protein level [59]. A notable difference among these was the high expression of peroxisome proliferator-activated receptor γ (PPARγ, discussed in greater detail below) in Ly6C- mouse monocytes, but not the proposed CD16+ counterpart [59]. As such, the differences between mouse and human monocyte subsets may be greater than had been expected and may be difficult to reconcile.
Two groups independently reported in 2007 that the Ly6C+ inflammatory monocyte subset increases its representation dramatically in the peripheral blood of the hypercholesterolemic apolipoprotein E (ApoE) deficient mouse on a high-fat diet [56, 60]. Conversely, hypercholesterolemia did not affect Ly6C- monocytes and also discouraged the conversion of Ly6C+ into Ly6C- monocytes. Other mechanisms proposed for this increase in Ly6C+ monocytes during hypercholesterolemia include increased proliferation and reduced apoptosis [61]. Ly6C+ monocytes are recruited to activated endothelium and are thought to represent the majority of infiltrating macrophages within atherosclerotic plaques [60]. Conversely, Ly6C- enter the atherosclerotic plaque in lower numbers and preferentially express CD11c upon entry [56]. This differential recruitment based upon Ly6C expression may condition the macrophage phenotype within the plaque, with reports that Ly6C+ monocytes differentiate into cells that resemble M1 macrophages and that cells derived from Ly6C- monocytes exhibit M2 characteristics [62–65].
Chemokine receptors are necessary for monocytes to traverse the endothelium [56, 66] (reviewed in [16]). CX3CR1-/- (fractalkine receptor) [67, 68], CX3CL1-/- (fractalkine) [69] and CCR2-/-[70, 71] mice (in the context of low density lipoprotein receptor (LDLR) or ApoE deficiency) exhibited a reduction in - but not elimination of - atherosclerosis. Furthermore, deficiency of CCR5 (the receptor for CCL5, a chemokine also known as RANTES) in ApoE-/- mice does not appear to be protective in the early stages of atherosclerosis [72]. Subsequently, in a wire injury study also using the ApoE-/- mouse model, the authors found a significant reduction in the area neo-intima formation with concurrent CCR5 deficiency, but not with concurrent absence of the alternative CCL5 receptor CCR1 [73]. More recently, a multiple knockout model has reaffirmed the thinking that CCL2 (MCP1), CCR5 and CX3CR1 play independent and additive roles in atherogenesis [74]. Combined inhibition of CCL2, CCR5 and CX3CR1 in ApoE-/- mice results in a 90% reduction in atherosclerosis, which is related to progressive monocytopaenia [66, 74]. However, chemokine receptor utilisation during recruitment to atherosclerotic plaques differentiates Ly6C+ and Ly6C- monocytes. Ly6C+ monocytes are recruited to mouse atherosclerosis via CCR2, CCR5 and CX3CR1 [61]. Conversely, Ly6C- monocytes are recruited less frequently and through CCR5.
In human atherosclerosis, patients with coronary artery disease have increased numbers of circulating CD14+ CD16+ monocytes compared to controls [75]. Furthermore, these patients have raised levels of serum TNFα [76]. There is, however, data to the contrary with the finding that inflammatory genes and surface markers were down-regulated in monocytes of patients with coronary atherosclerosis [77]. Of relevance, CD14+ CD16+ monocytes have also been shown to exhibit pro-inflammatory and pro-atherosclerotic activity in a population of elderly human subjects. These activated monocytes exhibited increased interaction with endothelium and had higher expression of chemokine receptors [78]. Other studies have suggested that the bone marrow is the source of these monocytes [79, 80].
Conclusions
Macrophages have been shown to exert a number of diverse functions in atherosclerosis, including inflammation, lipid metabolism and matrix degradation Recent studies have highlighted significant heterogeneity in macrophage behaviour and activation within atherosclerotic plaque. This heterogeneity is derived both from the heterogeneity of originating monocytes, and the inflammatory and lipidic stimuli available in the plaque. It is known that signalling pathways related to innate immunity are strong determinants for macrophage activation and there is growing evidence that they have a significant effect in plaque development and the complications thereof. Innate immune pathways may be activated by both infectious pathogens and endogenous danger signals. An example of the latter is the recognition by innate immune receptors of a growing number of lipoprotein components that are vital to the development of atherosclerosis. Oxidised LDL is seen to signal through TLR [22–24], cholesterol crystals signalling through NLR [21], and oxPAPC signalling via NRF2 [36]. The convergence of these pathways gives rise to the activation of resident monocyte-macrophages leading to cytokine and chemokine production. Moreover, TLR activation might have a role in biasing macrophage polarisation towards an M1 phenotype, together with Th1 lymphocytes present in the plaque. These exciting new findings highlight a wealth of novel potential therapeutic and diagnostic targets that may be exploited in the future treatment of cardiovascular disease.
Declarations
Acknowledgements
Mr Joseph Shalhoub's research is supported by the Circulation Foundation Mary Davies Research Fellowship, the Royal College of Surgeons of England/Rosetrees Trust Research Fellowship, the Graham-Dixon Charitable Trust and the Peel Medical Research Trust.
Dr Claudia Monaco has received funding from: the British Heart Foundation; European Commission under the 6th Framework Programme through the SME call for "Life sciences, genomics and biotechnology for health" (Contract number: LSHM-CT-2006-037400); European Collaborative Project on Inflammation and Vascular Wall Remodelling in Atherosclerosis Acronym: AtheroRemo; EU - HEALTH-2007-2.4.2-1. 2008; the Graham-Dixon Charitable Trust; the Kennedy Trustees. The Kennedy Institute of Rheumatology is funded by the Arthritis Research Campaign UK.
Authors' Affiliations
(1)
Cytokine Biology of Atherosclerosis, Kennedy Institute of Rheumatology, Faculty of Medicine, Imperial College, London, UK
(2)
Academic Section of Vascular Surgery, Department of Surgery and Cancer, Faculty of Medicine, Imperial College, London, UK
Copyright
© Shalhoub et al; licensee BioMed Central Ltd. 2011
This article is published under license to BioMed Central Ltd. This is an Open Access article distributed under the terms of the Creative Commons Attribution License (http://creativecommons.org/licenses/by/2.0), which permits unrestricted use, distribution, and reproduction in any medium, provided the original work is properly cited.