Volume 10 Supplement 1
2nd Cross Company Respiratory Symposium
Meeting abstracts
Edited by Richard Knowles and Kathy H Abbott-Banner
The conference and publication of this supplement were supported by Pfizer. The organizing committee, which included a representative from Pfizer, was involved in selecting abstracts for oral and poster presentations at the meeting. RK is a scientific consultant on respiratory and inflammation models on drug discovery as well as CEO of an SME developing anti-inflammatory medicines. KAB has no competing interests.
2nd Cross Company Respiratory Symposium.
Horsham, UK6-7 September 2012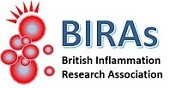 Affiliated with the British Inflammation Research Association (BIRAs).
Follow
Annual Journal Metrics
2022 Citation Impact
5.1 - 2-year Impact Factor
5.1 - 5-year Impact Factor
1.199 - SNIP (Source Normalized Impact per Paper)
1.259 - SJR (SCImago Journal Rank)

2022 Speed
16 days submission to first editorial decision for all manuscripts (Median)
161 days submission to accept (Median)

2022 Usage
408,120 downloads
792 Altmetric mentions