Treatment with 24 h–delayed normo- and hyperbaric oxygenation in severe sepsis induced by cecal ligation and puncture in rats
Journal of Inflammation
2017
14:27
Received: 14 June 2017
Accepted: 12 November 2017
Published: 25 November 2017
Abstract
Background
Septic shock remains a leading cause of death worldwide. Hyperbaric oxygen treatment (HBO2) has been shown to alter the inflammatory response during sepsis and to reduce mortality. A therapeutic window of HBO2 treatment has been demonstrated experimentally, but optimal timing remains uncertain. We investigated the effects of 24 h delayed normobaric oxygen (NBO2) and HBO2 treatment on the endogenous production of the inflammatory markers interleukin (IL)-6, tumor necrosis factor (TNF)-α and IL-10, and on mortality in rats with cecal ligation and puncture (CLP) induced sepsis.
Method
Fifty-five male Sprague-Dawley rats underwent CLP and were randomized to the following groups: 1) HBO2 2.5 bar absolute pressure (pabs); 2) NBO2 1.0 bar pabs; 3) Control (no-treatment), and they were individually monitored for 72 h with intermittent blood sampling.
Results
IL-6, TNF-α, and IL-10 were increased 24 h after the procedure, and IL-6 was significantly higher in non-survivors than in survivors. The level of IL-10 was significantly higher at hour 48 in the HBO2 group compared to control (p = 0.01), but this was not the case at other time points. No other significant differences in cytokine levels were found for any group comparisons. Delayed NBO2 and HBO2 treatment failed to change the mortality in the animals.
Conclusion
High levels of IL-6 in non-surviving animals with sepsis suggest that IL-6 is a potential biomarker. We found a significantly higher concentration of IL-10 in the HBO2 group at hour 48 vs. control animals. However, 24 h–delayed treatment with HBO2 did not change the levels of pro-inflammatory cytokines and survival, suggesting that earlier intervention may be required to obtain an anti-inflammatory effect.
Keywords
Sepsis
Mortality
CLP
Cytokines
Inflammation
HBO2
Background
Sepsis is a common and critical illness that accounts for 750.000 deaths annually in the United States despite increased focus and improved treatment [1–4]. The excessive release of cytokines causes a hyper inflammatory state and the imbalance of the pro-inflammatory and anti-inflammatory responses is thought to contribute to the high mortality rates in sepsis [5]. In particular, high concentrations of tumor necrosis factor (TNF)-α and interleukin (IL)-6 have been associated with multi organ failure and death at Day 28 [6]. Expression of IL-10 has been suggested to protect against mortality [7, 8]. However, others have shown that mortality is highest when both anti-inflammatory and pro-inflammatory cytokine levels are elevated [5, 9].
Hyperbaric oxygen treatment (HBO2) is currently the primary treatment for patients with carbon monoxide poisoning, decompression sickness, and an adjunctive treatment for problematic wound healing including necrotizing soft tissue infections [10, 11]. Sepsis is associated with an increased formation of reactive oxygen species (ROS) involved in tissue damage. Even though hyperoxia might increase ROS production, hyperbaric hyperoxia triggered repair mechanisms such as increasing the antioxidative capacity and improving microcirculation seems of importance, and therefore HBO2 has been suggested as a treatment for sepsis [12, 13]. Data from animal studies of sepsis suggest that HBO2 reduces mortality by altering the inflammatory response with an up-regulated anti-inflammatory response and down-regulated pro-inflammatory response [14, 15]. Previous reports have established that early treatment with hyperbaric oxygen has a beneficial effect on anti-inflammatory parameters and on mortality, but at present it is unclear whether delayed intervention with HBO2 has effect on the manifest stage of septic shock [7, 16, 17]. Moreover, cytokine concentrations are often only measured at one time point in each animal e.g. prior to euthanization, thus eliminating the chance of investigating the dynamic changes in the individual animal over time [7, 18, 19].
In the present study we aimed to investigate whether sampling and monitoring cytokine levels at several time points during 72 h relate to mortality and whether delayed treatment with normo- or hyperbaric oxygenation (i.e. NBO2 or HBO2) has a modulating effect on the cytokine response in manifest sepsis. CLP-induced sepsis in rats is considered the gold standard for the induction of inflammatory responses because the method causes a septic response similar to that of humans [20, 21]. Therefore, we combined CLP-induced sepsis with intermittent blood sampling monitoring the endogenous production of IL-6, TNF-α and IL-10 in rats over 72 h. We hypothesized that HBO2 treatment would result in a decreased pro-inflammatory response and an increased anti-inflammatory response thereby lowering mortality.
Methods
Ethics
The study was approved by the Danish Animal Experiment Inspectorate (authorization number 2012–12–2934-00504). The animals were assessed every 8th hour by the investigator (NFB) for clinical signs of sepsis. If an animal was too severely affected, it had to be euthanized according to Danish law. The severity of sepsis was evaluated using objective criteria according to clinical observations including the rats alertness [22]. Signs of severe suffering due to sepsis should be handled with euthanization of the rat, although this never happened. The study complied with the national guidelines for the care and use of animals in experimental research. The manuscript was prepared according to the ARRIVE (Animal Research: Reporting of In Vivo Experiments) guidelines.
Animals
Male Sprague-Dawley rats aged 8–10 weeks with an average weight of 296 g were used in all experiments. The rats were maintained, single caged, in a controlled environment (room temperature 22–23 °C and 50% humidity). They were housed for 120 h before surgery to allow acclimatization to the environment and they were maintained under a 12 h light/12 h dark regime. Food and water were available ad libitum.
Surgical procedures
All surgical procedures were conducted under aseptic conditions. Body temperature was controlled with a heating pad to maintain body temperature close to 37 °C degrees. Body temperature was measured with a probe inserted in the rectum. The rats were anesthetized with a single shot of intramuscular administered Zoletil 0.25 mL/100 g to keep the animals asleep and pain free during the entire surgical procedure. The animals were anesthetized a total of two times during the research period: Once prior to CLP and once before termination after 72 h to allow cardiac puncture. All incisions were closed using 4–0 PDS*II suture. Post-surgery fluid resuscitation was administered once with saline 20 mL/kg intraperitonally and analgesia was provided with buprenorphine 0.05 mg/kg every 8 h.
Femoral venous catheter
While anesthetized, using aseptic technique, a femoral venous catheter was placed for blood sampling, tunneled under the skin to the back of the neck and placed in a harness (Instech Solomon, order no. CIH95AB) to be easy accessible for sampling. The catheter was placed through a 5 mm incision in the right inguinal area. The femoral vein was found using blunt dissection and the tunnel was made by guiding forceps subcutaneously to the level of the inguinal area. A small incision was made 1/3 through the vein at an angle of 45 degrees. The catheter was placed in the vein and forwarded approximately 2–3 cm into the vein. Afterwards it was secured with 5–0 ethilon*II suture in the muscle layer of the leg. After insertion and blood sampling the catheter was flushed with 1 mL of saline also functioning as fluid resuscitation. A total of 3 mL was drawn during the 72 h observation period and before the rat was anesthetized for termination corresponding to approximately 15% of the total blood volume [22]. This is considered in accordance to guidelines and should not cause significant circulatory- or oxygenation problems since blood is sampled over several days [23].
Cecal ligation and puncture
The rat was shaved in the surgical area before the procedure and the skin sterilized with 0.5% chlorhexidine gluconate 83% ethanol. A 2 cm midline incision was made in the abdominal wall using scissors. The cecum was located and 30% of the cecum length was tightly ligated with a 4–0 silk suture, the ligation being below the ileocecal valve to ensure the continuity of the gastrointestinal tract and otherwise according the procedures described by Rittirsch et al. and Hubbard et al. [21, 24]. The cecum was then punctured once from side to side (double puncture) with a 16G needle. The cecum was gently squeezed until a small amount (droplet) of feces was visible through the punctures. The cecum was relocated into the abdominal cavity without spreading feces to the abdominal wall wound and the abdominal wall and skin was closed by sutures using 4–0 PDS*II suture. After the rat recovered from anesthesia, they had access to food and water ad libitum.
Experimental design and protocol
We randomized 55 rats into the following three groups, all rats undergoing CLP:
1)

19 rats exposed to hyperbaric oxygen (HBO2) (100% oxygen; 2.5 bar absolute pressure (pabs)).

2)

18 rats exposed to normobaric oxygen (NBO2) (100% oxygen; 1.0 bar pabs).

3)

18 rats served as controls (no treatment).
Rats were randomized (via Microsoft Excel) on a weekly basis amongst all valid combinations, the same group not following each other thereby assuring random group allocation. All normo- or hyperbaric oxygen treatments lasted for 90 min, the first treatment being administered with a delay of 24 h from the time of CLP. Subsequently, NBO
2
or HBO
2
were administered at 32, 48, 56 and 72 h after CLP, i.e. the last NBO
2
or HBO
2
treatment were followed by immediate termination by exsanguination (Fig.
1
).

One mL of blood was aseptically collected from the femoral vein catheter immediately prior to CLP and subsequently at hour 24, 48 and 72 after CLP. After each sample was collected, 1 mL of saline was carefully administered over one minute to compensate for the blood collected. If the catheter was obstructed, this was recorded, blood was drawn via sublingual blood collection using a 23G syringe dripping the blood directly into the sample tube, here giving 1 mL of saline intramuscular At 72 h, the animals were anesthetized with Zoletil 0.25 mL/100 g and blood for culturing and cytokine measurements were drawn by cardiac puncture under sterile conditions. Immediately afterwards, all animals were terminated by exsanguination.
Hyperbaric oxygen treatment
We administered 100% O2 for 90 min at 1.0 or 2.5 bar absolute pressure. The treatments were given in an Oxycom 250 Arc cylindrical acrylic hyperbaric chamber designed for animal research. The pressure inside the chamber was increased at the rate of 0.3 bar/min and decompressed at the rate of 0.3 bar/min. In the normobaric treatment the chamber was only ventilated with oxygen without increasing the pressure inside the chamber. The concentration of O2 was continuously measured with a DAMECA OM781 oxygen monitor. The hyperbaric chamber was ventilated with pure oxygen during the entire treatment to prevent CO2 accumulation and to maintain the exact pressure.
Laboratory methods
Blood cultures
One-3 mL of blood was inoculated in Bactec™ Peds Plus culture vials for aerobic microorganisms. Subsequent culturing and identification of the bacterial isolates was performed according to standard microbiological methods by the Department of Clinical Microbiology, Sect. 9301, Copenhagen University Hospital, Rigshospitalet.
Luminex multiplex assay
Quantitative determination of IL-6, TNF-α and IL-10 concentrations in plasma was done using BioRad Bioplex System, Luminex MAP Technology (Copenhagen, Denmark) according to the manufacturer's specifications. Analysis was performed at Aarhus University Hospital and at the Department of Biomedicine, Aarhus University. The plasma was obtained from whole blood centrifuged at 2400G/3500 rpm for 10 min. The plasma supernatant was pipetted and placed in 1 mL cryo tubes stored at minus 80 degrees Celsius for later analysis.
Outcome measures
Our primary analysis focused on describing changes of the pro- and anti-inflammatory response during the development of CLP induced sepsis expressed as differences in IL-6, TNF-α and IL-10 concentrations. Furthermore, we assessed the impact of HBO2 and NBO2 treatments on plasma cytokine concentrations at 24 h, 48 h and 72 h during the phases of sepsis progression. In the secondary analysis, we analyzed differences in mortality over 72 h between the HBO2 and NBO2 group.
Data analysis and statistics
Tests for normality and homogeneity of variance were conducted using the Shapiro-Wilks test and the Kolmogorov-Smirnov test. Due to non-parametric distribution, continuous data are reported as medians (interquartile range). For categorical data, absolute numbers (proportions) are reported and group comparisons performed using χ
2
-test or Fisher's exact test. Continuous data are reported with medians (interquartile range, IQR) and compared at specific time points using the Mann-Whitney
U
test. The mortality was calculated using the log-rank test and illustrated with Kaplan-Meier curves (Fig.
2
).
P-
values <0.05 were considered statistically significant. Statistical analyses were performed using Statistical Package for the Social Sciences 22.0 software (SPSS Inc., Chicago, IL, USA) and GraphPad Prism 6.0 software (GraphPad Inc., La Jolla, CA, USA). Cytokine measurements with values lower than detection concentrations were set to 0.5 times the lowest value measured for statistical analysis.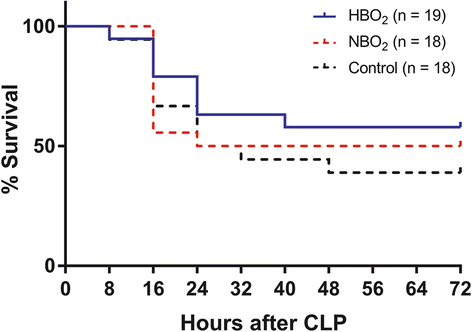 Results
In total, 58 rats underwent operation with CLP and insertion of femoral vein catheter. Three died as a result of operative complications, leaving 55 rats for inclusion. Baseline characteristics of all experimental groups are shown in Table
1
. Except for weight, there were no differences among groups in baseline characteristics. In spite of group randomization procedures, the weight of the rats was significantly different among the groups with rats in the HBO
2
(median weight 309 g) weighing significantly more than the NBO
2
group (median weight 281 g) (
p =
 0.0001).
Table 1
Baseline characteristics and outcomes
Control (n = 18)

NBO2 (n = 18)

HBO2 (n = 19)

P-value

Weight, gram (SD)

296 (24)

281 (14)

309 (25)

< 0.0001

Temp. at beginning of OP, C° (SD)

36.2 (0.7)

36.4 (0.9)

36.2 (0.6)

0.54

Temp. at end of operation, C° (SD)

36.7 (0.6)

36.4 (0.4)

35.4 (0.4)

0.97

Operation time, minutes (IQR)

50 (45–58)

47 (34–56)

50 (40–64)

0.37

Caecum ligated, millimeters (SD)

62.9 (6.7)

60.8 (6.5)

60.3 (6.8)

0.81

Microorganisma

 Positive blood culture

4 (57)

4 (44)

9 (82)

0.16

 Polymicrobial

2 (29)

3 (33)

3 (27)

0.77

  Escherichia coli

4 (57)

3 (33)

6 (55)

0.41

 Enterococcus faecalis

1 (14)

3 (33)

2 (18)

0.62

 Other

2 (29)

3 (33)

4 (36)

0.89

Cytokinesb, pg/mL

 TNF-α

57.2 (0.4–114.9)

11.9 (0.4–118.7)

25.7 (0.4–102.9)

0.99

 IL-6

33.4 (2.8–70.0)

2.8 (2.8–153.2)

2.8 (2.8–30.5)

0.87

 IL-10

79.4 (0.1–155.9)

0.1 (0.1–278.8)

64.7 (0.1–148.5)

0.66

Blood drawn sublinguallyc

No of subjects

7 (17)

10(22)

9(17)

Mortality

 24-h

6 (33)

8 (44)

4 (21)

0.13

 48-h

10 (56)

9 (50)

8 (42)

0.63

 72-h

11 (61)

9 (50)

8 (42)

0.63
Conclusion
This study documents the endogenous production of IL-6, TNF-α and IL-10 in rats with cecal ligation and puncture (CLP) induced sepsis on conscious animals with intermittent blood sampling in the individual rat during a 72-h period. We found a significant higher level of IL-6 in non-surviving animals, suggesting IL-6 to be a potential biomarker predicting death in sepsis. Moreover, we found a statistically higher concentration of the IL-10 in the HBO2 group at hour 48 versus control animals, but the elevation of the anti-inflammatory cytokine did not have a statistically significant effect on mortality. This might be due to the 24 h delay of the HBO2 treatment. We found no additional statistically significant differences in the cytokine response between HBO2, NBO2 and control. Additionally, no statistically significant differences were seen in mortality for any group comparisons. Delayed and infrequent intervention in the late phase of septic shock may compromise the previously reported ameliorating effects of HBO2 treatment. The model presented in this study provides a template for further preclinical studies in the field of hyperbaric oxygen treatment for sepsis and future studies should consider earlier intervention with respect to hyperbaric oxygen effects.
Abbreviations
CLP:

Cecal ligation and puncture
E. cloacae :

Enterobacter cloacae
E. coli :

Escherichia Coli
E. faecalis:

Enterococcus Faecalis
HBO2 :

Hyperbaric oxygen treatment
HMGB1:

High mobility group box protein 1
IL:

Interleukin
NBO2 :

Normobaric oxygen
ROS:

Reactive oxygen species
TNF-α:

Tumor necrosis factor alfa
Declarations
Acknowledgements
We thank María Kristín Björnsdóttir and her staff at the department of clinical microbiology 9301, Copenhagen University Hospital for help with blood cultures. We also thank Nils Erik Magnusson, Anne Christine Wandall-Frostholm and Heidi Schou Knudsen, Department of biomedicine, Aarhus University for conducting the cytokine ELISA's.
Funding
This project was partly funded from the European Union's Seventh Framework Programme (grant no. 305340) and from 'Snedkermester Sophus Jacobsen og hustru Astrid Jacobsens Fond'. The funding parties had no role in the design of the study, data collection, analysis or interpretation of data nor in the writing of the manuscript.
Availability of data and materials
The datasets used and analyzed during the current study are available from the corresponding author on reasonable request.
Authors' contributions
NFB has been the main contributer to conception, design and execution of the experiment, analysis and interpretation of data and the main drafter of the manuscript. MBH has made substantial contributions to conception of the experiment, analysis and interpretation of data and has contributed revising the manuscript critically for important intellectual content. AMW made substantial contributions to conception the experiment and has been revising the manuscript critically for important intellectual content. US has made substantial contributions to acquisition of data and has contributed revising the manuscript critically for important intellectual content. OH has conceived, designed and supervised the experiment, been involved in drafting the manuscript and revised it critically for important intellectual content. All authors read and approved the final version of the manuscript.
Competing interest
The authors declare that they have no competing interests.
Ethics approval and consent to participate
The study was approved by the Danish Animal Experiment Inspectorate (authorization number 2012–12–2934-00504).
Consent for publication
Not applicable.
Publisher's Note
Springer Nature remains neutral with regard to jurisdictional claims in published maps and institutional affiliations.
Open AccessThis article is distributed under the terms of the Creative Commons Attribution 4.0 International License (http://creativecommons.org/licenses/by/4.0/), which permits unrestricted use, distribution, and reproduction in any medium, provided you give appropriate credit to the original author(s) and the source, provide a link to the Creative Commons license, and indicate if changes were made. The Creative Commons Public Domain Dedication waiver (http://creativecommons.org/publicdomain/zero/1.0/) applies to the data made available in this article, unless otherwise stated.
Authors' Affiliations
(1)
Department of Anesthesia, Center of Head and Orthopedics, Rigshospitalet, University of Copenhagen, Copenhagen, Denmark
(2)
Hyperbaric Unit, Department of Anesthesia, Center of Head and Orthopedics, Rigshospitalet, University of Copenhagen, Copenhagen, Denmark
(3)
Department of Biomedicine, Pulmonary and Cardiovascular Pharmacology, Aarhus University, Aarhus, Denmark