Portrait of inflammatory response to ionizing radiation treatment
Journal of Inflammation
2015
12:14
Received: 25 August 2014
Accepted: 29 January 2015
Published: 18 February 2015
Abstract
Ionizing radiation (IR) activates both pro-and anti-proliferative signal pathways producing an imbalance in cell fate decision. IR is able to regulate several genes and factors involved in cell-cycle progression, survival and/or cell death, DNA repair and inflammation modulating an intracellular radiation-dependent response. Radiation therapy can modulate anti-tumour immune responses, modifying tumour and its microenvironment. In this review, we report how IR could stimulate inflammatory factors to affect cell fate via multiple pathways, describing their roles on gene expression regulation, fibrosis and invasive processes. Understanding the complex relationship between IR, inflammation and immune responses in cancer, opens up new avenues for radiation research and therapy in order to optimize and personalize radiation therapy treatment for each patient.
Keywords
Ionizing radiationInflammationCytokineFibrosisInvasiveness
Introduction
Radiation therapy (RT) is a treatment modality used for many types of cancer: more than 50% of cancer patients receive RT, often used in combination with surgery and chemotherapy [1].
Ionizing radiation (IR) activate both pro- and anti-proliferative signal pathways altering the homeostatic balance between survival and cell death, regulated by several genes and factors involved in cell cycle progression, DNA repair, inflammation and cell death induction [2].
Studies have shown that RT may reduce the incidence of distant metastases and improve survival by controlling locoregional recurrence [3].
An increasing amount of data suggests that there is a direct relationship by which radiation stimulate the immune system, which in turn contributes to tumour cell death [4].
It has long been recognized that the immune system plays a pivotal role in tumours. On the one hand, immunological factors can suppress tumour development by killing cancer cells or inhibiting their growth. On the other hand, immune cells are able to induce an immunosuppressive microenvironment that contributes to promote tumour progression [5-7].
More precisely, inflammatory cytokines, growth factors and proteases can affect cancer cell invasion, bystander effect, radiation tissue complications such as fibrosis, genomic instability and thus can greatly affect intrinsic cellular radiosensitivity [8-10].
Recently, it has become evident that, in particular for solid tumours, the inhibition of neoplastic cell proliferative capacity following irradiation can occur through different modes of cell death that could also be induced by immunological factors (i.e. apoptosis, necrosis, mitotic catastrophe, autophagy and senescence) [2].
The aim of this review is to describe how IR may stimulate immunological factors to determine cell fate by multiple pathways by providing an overview of the main key transcription factors that modulate inflammatory gene expression profile after IR exposure. We shall also discuss the cytokine pivotal role in invasiveness and radiation-related fibrosis, and combined radio-immune cancer therapies. Finally, we introduce the future perspectives of a IORT inflammatory response evaluation in understanding inflammatory response induced by a high dose of radiation, in order to identify potential biomarkers that may have a prognostic value for cancer treatment.
Conclusion
RT has extensively been employed as a curative or palliative intervention against cancer throughout the last century, with a varying degree of success. IR activates complex cross-linked intracellular pathways able to define cell fate, determining the outcome between survival and death regulating several factors involved in inflammation, DNA repair, cell survival or death (summarized in Figure
1
) [
2
]. The immune system plays a pivotal role controlling tumour development, suppression or tumour progression [
8
]. This review represents an overview, of the most recently available data regarding the main networks activated after IR exposure, cytokines pivotal roles in invasiveness and fibrosis radiation-related and radio-immune combined cancer therapies updates.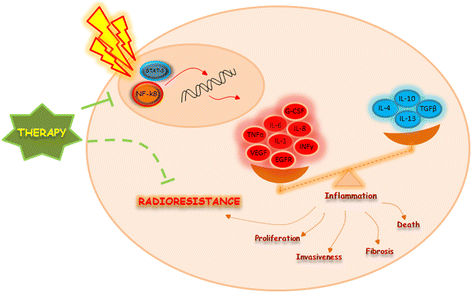 Declarations
Acknowledgements
This work was supported by FIRB/MERIT (RBNE089KHH).
Authors' Affiliations
(1)
Department of Pathobiology and Medical and Forensic Biotechnologies, University of Palermo, Palermo, Italy
(2)
IBFM CNR – LATO, Contrada Pietrapollastra Pisciotto, Cefalù, Italy
(3)
Department of Health Sciences, Tecnomed Foundation, University of Milano-Bicocca, Milan, Italy
(4)
Nuclear Medicine Center, San Gerardo Hospital, Monza, Italy
(5)
Nuclear Medicine, San Raffaele Scientific Institute, Milan, Italy
Copyright
© Di Maggio et al.; licensee BioMed Central. 2015
This is an Open Access article distributed under the terms of the Creative Commons Attribution License (http://creativecommons.org/licenses/by/4.0), which permits unrestricted use, distribution, and reproduction in any medium, provided the original work is properly credited. The Creative Commons Public Domain Dedication waiver (http://creativecommons.org/publicdomain/zero/1.0/) applies to the data made available in this article, unless otherwise stated.