Effects of anti-inflammatory [1, 2, 4]triazolo[4, 3-a] [1, 8]naphthyridine derivatives on human stimulated PMN and endothelial cells: an in vitro study
Journal of Inflammation
2006
3:4
Received: 18 November 2005
Accepted: 28 March 2006
Published: 28 March 2006
Abstract
Background
[1, 2, 4] triazolo [4, 3-a][1, 8]naphthyridine derivatives (including NF161 and NF177) were tested for anti-inflammatory, analgesic and antipyretic properties and for their effects on spontaneous locomotor activity in mice and acute gastrolesivity in rats. Both NF161 and NF177 appeared to be anti-inflammatory and analgesic agents without toxic effects or acute gastrolesivity, but NF161 showed stronger anti-inflammatory activity, whereas NF177 was more active as analgesic.
Methods
An EIA kit was used to investigate the ability of NF161 and NF177 to affect prostaglandin E2 (PGE2) and prostacyclin (PGI2) production by human umbilical vascular endothelial cells (HUVEC).
The compounds' effects on the production of reactive oxygen species (ROS) by human polymorphonuclear cells (PMNs) were studied in an in vitro cell model, evaluating inhibition of superoxide anion (O2-.) production induced by N-formylmethionyl-leucyl-phenylalanine (FMLP). Their effects on PMN adhesion to HUVEC were also investigated; they were incubated with PMNs and endothelial cells (EC) and challenged by stimuli including Platelet Activating Factor (PAF), FMLP, Phorbol Myristate Acetate (PMA), Tumor Necrosis Factor-α (TNF-α) and Interleukin-1β (IL-1β). Adhesion was quantitated by computerized micro-imaging fluorescence analysis.
Results
Neither compounds modified PGE2 or PGI2 production induced by IL-1α.
O2-. production and myeloperoxidase release from PMNs stimulated by FMLP was inhibited in a dose- but not time-dependent manner by both [1, 8]naphthyridine derivatives, NF161 being statistically more active than NF177 (P < 0.01).
The compounds inhibited adhesion evoked by the pro-inflammatory stimuli PAF, FMLP, TNF-α and IL-1β in a concentration-dependent manner in the 10-6–10-4M range, being more active when PAF was used as stimulus and inactive when cells were challenged by PMA. Both compounds acted both on PMN and HUVEC.
Conclusion
Considering the interesting anti-inflammatory effects of these compounds in in vivo models and the absence of acute gastrolesivity, the study improved knowledge of anti-inflammatory properties of NF161 and NF177, also demonstrating their potential in vitro, through inhibition of O2-. production, myeloperoxidase release and PMN adhesion to HUVEC. Negative results on PG production suggest a cyclooxygenase (COX)-independent mechanism.
Keywords
Platelet Activate FactorPhorbol Myristate AcetateHuman Umbilical Vascular Endothelial CellPGI2 ProductionFluorescein Diacetate
Background
There is currently considerable therapeutic interest in novel anti-inflammatory drugs with mechanisms other than the inhibition of cyclooxigenase activity, typical of nonsteroidal anti-inflammatory drugs (NSAIDs), and thus devoid of irritant effects on the gastric mucosa and suitable for use in chronic inflammatory diseases. COX is the enzyme that catalyses the first two steps in the biosynthesis of prostaglandins (PGs) from arachidonic acid [1]. About a decade ago it was demonstrated that COX exists as at least two distinct isoforms, COX-1 and COX-2, both responsible for PG production in a range of tissues. HUVEC are known to possess both COX isoforms. COX-1 is constitutive and its expression cannot be modulated, while COX-2 induction in HUVEC has been demonstrated in response to various proinflammatory cytokines, such as IL-1α and β and TNF-α [2, 3].
[
1
,
8
]naphthyridine derivatives have been reported to possess antibacterial [
4
], antymicobacterial [
5
], antitumoral [
6
], anti-inflammatory [
7
], antiplatelet [
8
], gastric antisecretary [
9
], antiallergic [
10
], local anaesthetic [
11
] and benzodiazepine receptor activities [
12
]. [
1
,
8
]naphthyridine derivatives are also reportedly associated with positive ionotropic [
13
], β-adrenergic blocking [
14
] and anti-hypertensive [
15
] activities. Recently, Roma et al. [
16
] synthesized a series of new derivatives, the substituted 5-amino[
1
,
2
,
4
]triazolo [4.3-
a
][
1
,
8
]naphtyridine-6-carboxamides, in order to obtain novel interesting anti-inflammatory agents. The authors showed that compound NF161 (Fig.
1
) exhibited potent statistically-significant anti-inflammatory activity at the carrageenan-induced paw edema assay in rats, and showed interesting anti-aggressive activity (even if only at the highest dose) evaluated in the isolation-induced aggressiveness test in mice; results of a further test at 50 mg/Kg dose to evaluate antinociceptive activity of this compound were not statistically significant. This compound has since been demonstrated to have marked analgesic activity at the acetic-acid-induced writhing test in mice (at 200 and 100 mg/kg) and a complete lack of acute gastrolesivity in rats [
17
].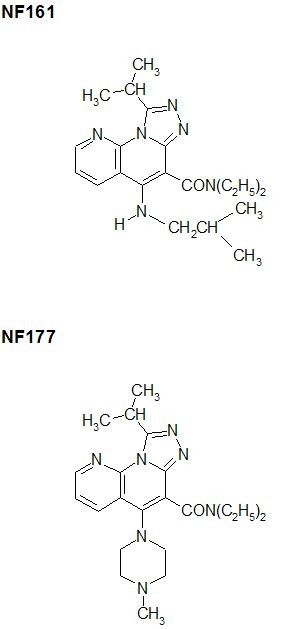 The same paper described a new compound (NF177, Fig. 1), belonging to the same chemical family [17]. In comparison with NF161, NF177 demonstrated stronger analgesic activity in the writhing test in mice, remarkably lower anti-inflammatory activity in the carrageenin-induced paw edema assay in rats (being active only at the highest dose), a marked effect on locomotor activity in mice and, like NF161, a complete lack of acute gastrolesivity in rats.
Bone-marrow-derived leukocytes, in particular PMNs, are responsible for much of the damage in chronic inflammation reactions. ECs play a crucial role in leukocyte homing to tissues, through adhesive interactions with these cells. These processes depend on specific cell adhesion molecule (CAM) activity in leukocytes and ECs. CAM activity can be regulated by modulating their expression or intrinsic adhesive functions [18]. PMNs maintain several of these receptors in an inactive state during transit in the bloodstream and extracellular fluids, and only activate them when the proper specific stimuli are delivered. An important role in this signaling is played by molecules belonging to the chemoattractant family, which comprises classic chemoattractants such leukotriene B4, PAF, N-formyl peptides and chemokines, which are cytokines with chemoattractant capacity and a high level of sequence homology. Chemoattractants bind to the surface of ECs, which present them to circulating PMNs. PMN interaction with chemoattractants promotes integrin adhesion via inside-out signaling [19], activates cell motility, and stimulates degranulation and respiratory burst of phagocytes [20].
Since PMN adhesion to ECs is a key step in the development and progression of inflammation, we investigated the anti-inflammatory activity of NF161 and NF177, evaluating their ability to inhibit PMN adhesion to HUVEC, induced by several stimuli; we also studied PMN adhesion to FCS-coated plastic wells. PMN activation was determined via O2- production and myeloperoxidase release.
Both NF161 and NF177 inhibited O2-. production and myeloperoxidase release from PMNs, challenged by FMLP, NF161 being statistically more active than NF177. Moreover, both compounds inhibited the PMN adhesion to HUVEC evoked by pro-inflammatory stimuli, acting either on PMNs or on HUVEC. Neither NF161 nor NF177 was able to modify the PGE2 and PGI2 production induced by IL-1α in HUVEC, thus suggesting a COX-independent mechanism of action.
Methods
Materials
Dextran T500 was from Pharmacia Biotech (Uppsala, Sweden). Bovine calf serum (BCS, endotoxin tested) was from Hyclone Laboratories Inc. (Logan, UT). Trypsin was from Difco Laboratories Inc, Detroit, MI. Histopaque®1077, fluorescein diacetate, M199 (endotoxin tested), PAF, n-FMLP, IL-1β, PMA, TNF-α, cytochrome C, superoxide dismutase, cytochalasin B, HAS, 2-chloroadenosine and methylthiazolyldiphenyl-tetrazolium bromide (MTT) were from Sigma-Aldrich (St. Louis, MO). Collagenase was from Roche Diagnostics (Mannheim, Germany). MAb LFA-1 (recognizes CD11a) was a gift from Prof. U. Dianzani (University of Eastern Piedmont, Novara, Italy). MAb OKM-1 (recognizes CD11b).
was obtained from the American Type Culture Collection (Rockville, MD, USA). Each mAb was used at the concentration that demonstrated maximal inhibitory effects in the adhesion assay, (20 μg/ml) [21].
All other reagents and solvents were from Merck (Darmstadt, Germany). The [1, 8]naphthyridine derivatives were synthesized as reported in Grossi et., 2005 [17]. Each of the [1, 8]naphthyridine derivatives was dissolved in dimethyl sulphoxide (DMSO). Stock solutions were prepared daily and diluted in M199 to the appropriate concentrations before each experiment. The final concentration of DMSO was never above 0.1%. The same amount of DMSO was added to controls and did not affect absolute control adhesion nor superoxide anion production (O2-.).
Cell cultures
PMNs were prepared from citrated venous blood obtained from healthy volunteers at a local hospital bank, using the standard techniques of dextran sedimentation followed by Histopaque®1077 gradient centrifugation. Residual erythrocytes were removed by hypotonic lysis and PMNs were resuspended in buffered salt solution (BSS) (138 mmol/l NaCl, 2.7 mmol/l KCl, 8.1 mmol/l Na2HPO4, 1.5 mmol/l KH2PO4, 1 mmol/l MgCl2, 1 mmol/l CaCl2, pH 7.4) supplemented with 1 mg/ml glucose and 1 mg/ml human serum albumin (HSA). Purity of the final cell suspension and cell viability, assessed by the trypan blue exclusion test, were > 95% in all cases. Cell viability was not affected by compound treatments, measured with the MTT test [22] for HUVEC and with the trypan blue exclusion test for PMNs (test time: 0–25 min; concentration 10-4M).
HUVEC were isolated as described elsewhere [23] from human umbilical veins by collagenase treatment (0, 1%) and cultured on gelatin-coated culture dishes in M199 medium supplemented with 20% heat-inactivated bovine calf serum (BCS), 100 U/ml penicillin, 100 μg/ml streptomycin, 5 U.I./ml heparin, 12 μg/ml bovine brain extract and 200 mM glutamine. HUVEC were grown to confluence in flasks and used at the II-IV passages.
Superoxide anion (O2-.) production
PMNs (1 × 10-6cells/ml) were suspended in buffer saline solution (BSS); they were pretreated with cytochalasin B (5 μg/ml) for 5 min at 37°C to maximize the measured response, then challenged with the test compound for 15–25 min at 37°C before exposure to 10-7M FMLP for a further 5 min. O2-. production was determined spectrophotometrically by measuring the superoxide dismutase-inhibitable reduction of cytochrome C reduced/106 PMNs/min. NF161 and NF177 were checked for interference in the assay by measuring their effects on cytochrome C reduction with a xanthine oxidase superoxide generating system. Neither of the compounds tested interfered with the spectrophotometric assay. Assays were carried out in the same buffer, with 100 μM cytochrome C, 150 μM hypoxanthine, 0.01 units of xanthine oxidase per milliliter, and appropriate concentrations of each compounds.
Myeloperoxidase assay
PMNs (2 × 106 cells) were incubated in BSS to a final volume of 1 ml with cytochalasin B and NF161 or NF177 for 15 min, than FMLP (10-8M) was added for a further 5 min. Myeloperoxidase release was assayed as described by Henson et al. [24]. Release of enzymes was expressed as percentage of total cell enzyme activity.
Adhesion assay
HUVEC were grown to confluence in 24-well plates. PMNs (107cells/ml) were labeled with fluorescein diacetate (5 μg/ml) for 30 min at 37°C, washed with BSS, and plated at 106 cells/well in a final volume of 0.25 ml BSS on HUVEC pretreated with the 1, 8-naphtyridines (10-6–10-4M) for 10 min and challenged with various stimuli: FMLP and PAF (both at 10-7M) or PMA (10-8M) for 10 min or IL-1β and TNF-α (both at 10 ng/ml) for 1 h. After incubation, non-adherent PMNs were removed by washing three times with 1 ml BSS. The center of each well was analyzed by fluorescence image analysis [25]; adherent cells were counted using Image Pro Plus Software for micro-imaging (Media Cybernetics, version 5.0). Single experimental points were assayed in quadruplicate, and the standard error of the four replicates was below 10% in all cases. Data are presented as percentage adhesion versus the control value, control adhesion being measured on HUVEC that underwent no treatment. Control adhesion was 51 ± 9 cells/microscope fields (n = 30).
The direct effect on HUVEC was assessed by pretreated the cells with the 1, 8-naphtyridines (10-4M) and 10-7M PAF for 20 min, washed three times and challenged with PMNs for further 10 min.
The direct effect on PMNs was assessed by seeding the cells on 24-well EC-free plates for 20 min at 37°C, in the presence of NF161 or NF177 and 10-7M FMLP. The plates had previously been coated with heat-inactivated calf serum for three hours to reduce spontaneous adhesion to the plastic wells. Percentage inhibition of adhesion was calculated as follows: [100 - (a)/(b)] × 100, where a is adhesion measured in the presence of the compound plus stimulus minus basal adhesion, and b is adhesion elicited by stimulus minus basal adhesion.
Prostacyclin and Prostaglandin E2 enzyme immunoassay
The effect of IL-1α on the release of PGE2 and the stable metabolite of prostacyclin, 6-keto-PGF1α, were established by incubating HUVEC in the presence of IL-1α (10 ng/mL) for 20 h. After incubation, the medium was collected and analyzed for PGE2 and 6-keto-PGF1α. On the basis of the data obtained in this experiment, the effect of NF161 and NF177 on the release of PGE2 and 6-keto-PGF1α, in IL-1α-treated HUVEC was studied. HUVEC were pretreated for 20 h with IL-1α plus either NF177 or NF161 (10-6–10-4M). In a second set of experiments, HUVEC were pre-treated with IL-1α for 20 h and then with NF177 or NF161 (10-6–10-4M) for a further 30 min. The PGE2 and 6-keto-PGF1α content of the media were assayed using the Amersham Biosciences enzyme immunoassay kit (Amersham Biosciences Corp., Piscataway, NJ, USA) and following the manufacturer's protocol.
Statistical analysis
Results are expressed as means ± SEM;
n
indicates the number of experiments. Data in Fig.
2
,
3
,
4
,
5
,
6
,
7
were analyzed by two-way analysis of variance to ascertain whether differences among the means were significant. The Bonferroni multiple comparison post-test was then applied to determine significant differences between specific pairs of means. The molar concentration of each compound that reduces response to the stimulus by 50% (IC
50
) was calculated with a non-linear regression model using the software Origin version 6.0 (Microcal Software, Northampton, USA). IC
50
data in Figures
4
and
5
were analyzed using one-way analysis of variance, followed by the Tukey multiple comparison post-test. Differences were considered to be statistically significant at a value of P < 0.05. All statistical analyses were done using GradPadPrism 3.0 software (GraphPad Software, San Diego, California, USA).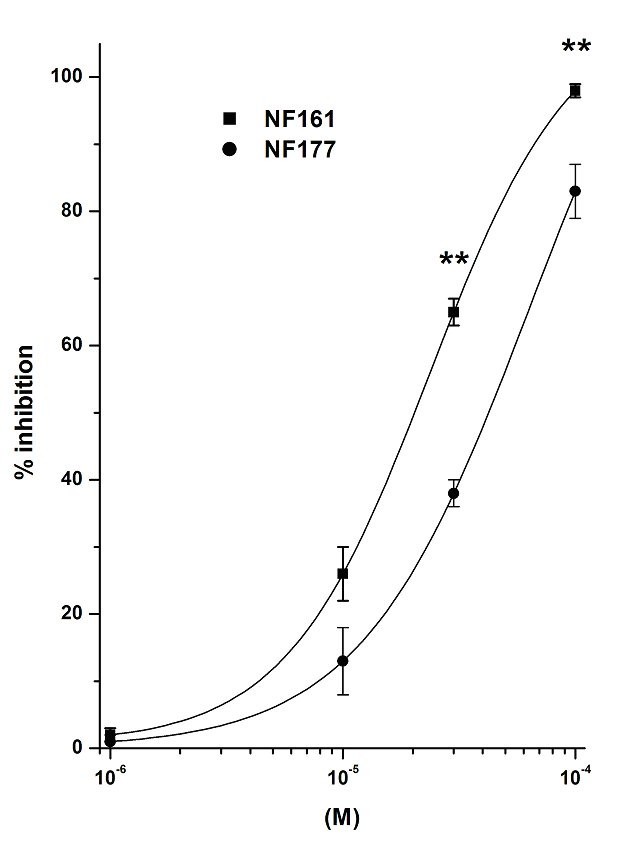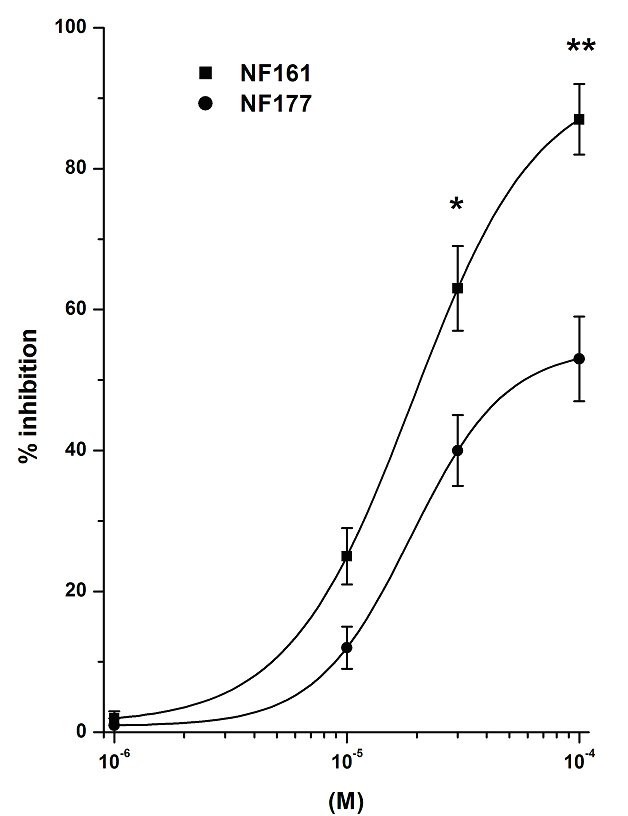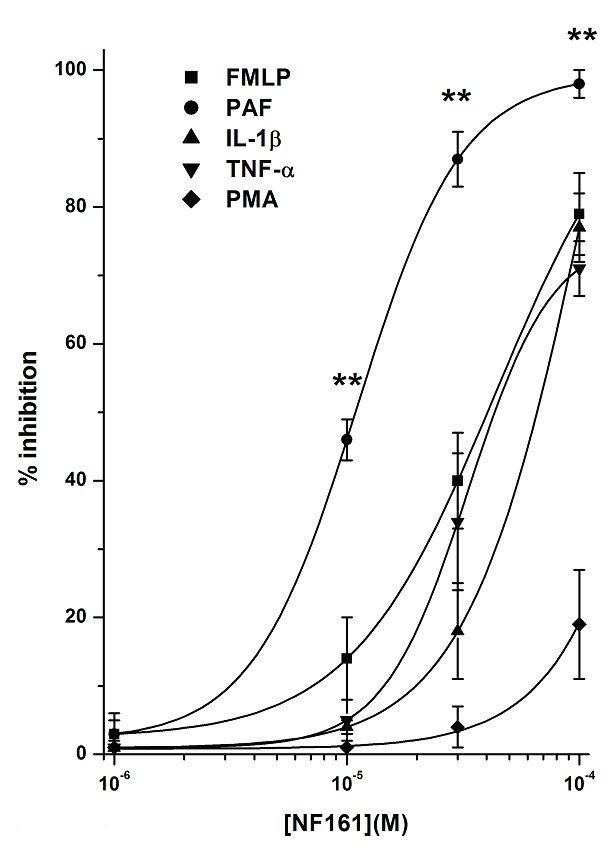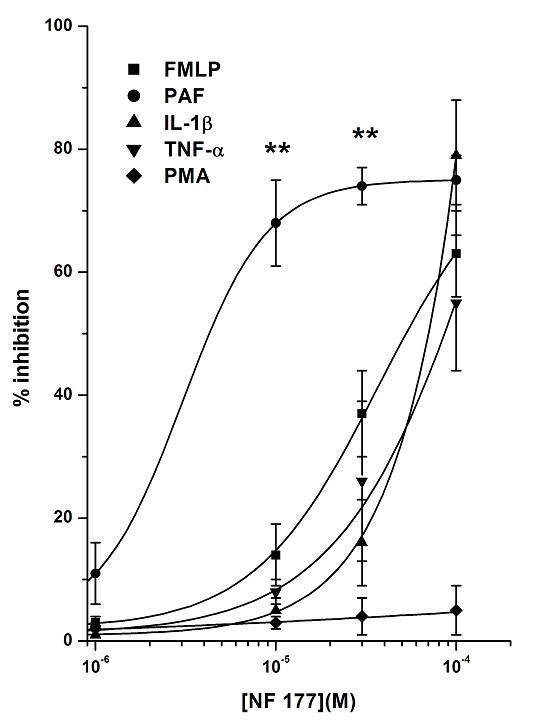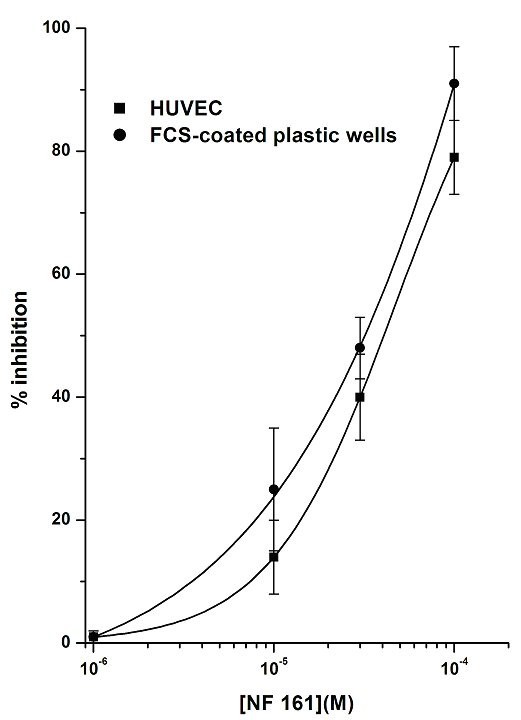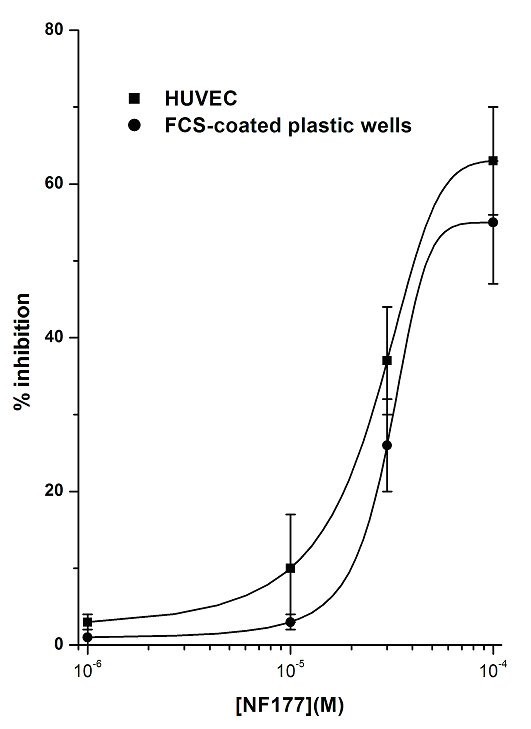 Conclusion
In summary, our in vitro results indicate that the in vivo anti-inflammatory properties of compounds NF161 and NF177 [16, 17] do not involve the COX pathway, but may be due to their anti-adhesive effects and their inhibition of O2-. production and of myeloperoxidase release, these properties being shown in vitro with steep concentration-response curves and at high concentrations. The two compounds exert their anti-adhesive effects very quickly, inhibiting PMNs adhesion to HUVEC within 10–20 min, acting directly either on HUVEC or on PMNs. Moreover, the anti-adhesive effect increases markedly when both cell populations are activated at the same time. The inhibitory effect detected in the presence of FMLP, IL-1β and TNF-α is also particularly interesting, since these experimental conditions may be regarded as mimetic of pathophysiological mechanisms of inflammatory diseases. The features of NF161 and NF177, together with the in vivo anti-inflammatory effects reported by other authors for [1, 8]naphthyridine derivatives and their absence of gastrotoxicity, may be interesting for the design and development of innovative anti-inflammatory molecules in this structural field.
Abbreviations
PGE2:

prostaglandin E2
PGI2:

prostacyclin I2
HUVEC:

Human Umbilical Vein Endothelial Cell
PMN:

Polymorphonuclear cell
O2-.:

superoxide anion
FMLP:

N- formylmethionyl-leucyl-phenylalanine
PAF:

Platelet Activating Factor
EC:

Endothelial Cell
PMA:

Phorbol Myristate Acetate
TNF-α:

Tumor Necrosis Factor-α IL-1β : Interleukin-1β FCS: Fetal Calf Serum
COX:

cyclooxygenase
NSAIDs:

Nonsteroidal anti-inflammatory drugs
CAM:

Cell Adhesion Molecules
BSS:

Buffer Salt Solution
BCS:

Bovine Calf Serum
ROS:

Reactive Oxygen Species
PKC:

Protein Kinase C.
Declarations
Acknowledgements
This research was supported by the Turin University funding (ex-60%).
We thank the Anatomo-Pathology Unit and the Obstetrics and Gynecology Unit, Martini Hospital, Turin, for providing human umbilical cords, and the Blood Bank, Molinette Hospital, Turin, for providing human blood.
Authors' Affiliations
(1)
Department of Anatomy, Pharmacology and Forensic Medicine, University of Turin, Torino, Italy
(2)
Department of Pharmaceutical Sciences, University of Genoa, Genoa, Italy
Copyright
© Dianzani et al; licensee BioMed Central Ltd. 2006
This article is published under license to BioMed Central Ltd. This is an Open Access article distributed under the terms of the Creative Commons Attribution License (http://creativecommons.org/licenses/by/2.0), which permits unrestricted use, distribution, and reproduction in any medium, provided the original work is properly cited.